---
After losing contact for ~10 years, childhood friends Dennis and Craton came together again to start a business in the coffee industry.
Our coffee adventure started in 2016.
We started out with a dream to figure out what it takes to start a business around human connection over maximizing profits.
What we didn't realize was how hard it was going to be to not only start a new coffee shop from scratch, but to juggle all of the partners, systems, and decisions to stay organized as entrepreneurs and work through unexpected challenges along the way (we ended up losing a couple of promising leases and failing health inspections that delayed us a couple of months).
We were able to eventually figure out how to get our physical doors open, creating some amazing memories with a thriving community for almost 2 years before pivoting to our online coffee shop after the 2020 pandemic.
PHOTO
Co-Founders Dennis (on the left) and Craton (on the right) looking at floor plans put together by their hired architects.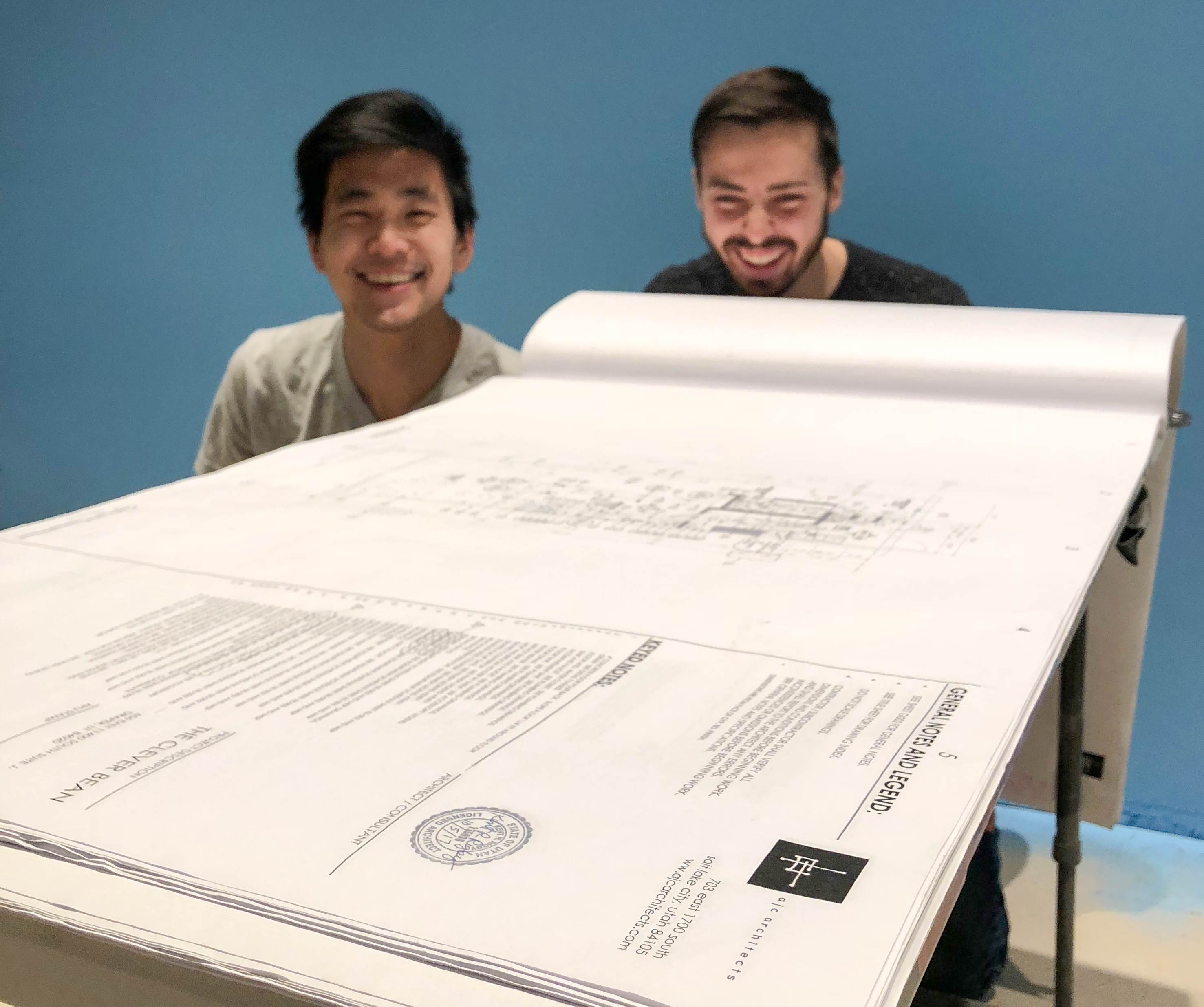 Coffee exploration trips to learn about coffee culture.
Before we opened, we watched YouTube coffee videos, read coffee books, and visited local coffee shops by foot and car.
We also visited coffee shops and coffee farms in the US and the UK, all with the goal to figure out what makes coffee more than just a seed (bean) inside a fruit (cherry).

Once we finished our 88-page business plan, we were inspired to develop our own unique coffee blend that we would include in all of our coffee-based drinks. We desired a blend that would exceed even our own expectations of deliciousness.
This started our search for a coffee roasting partner who could help us turn our fantasy into reality.
PHOTO
9 different coffee farms toured in Hawaii (March 2017).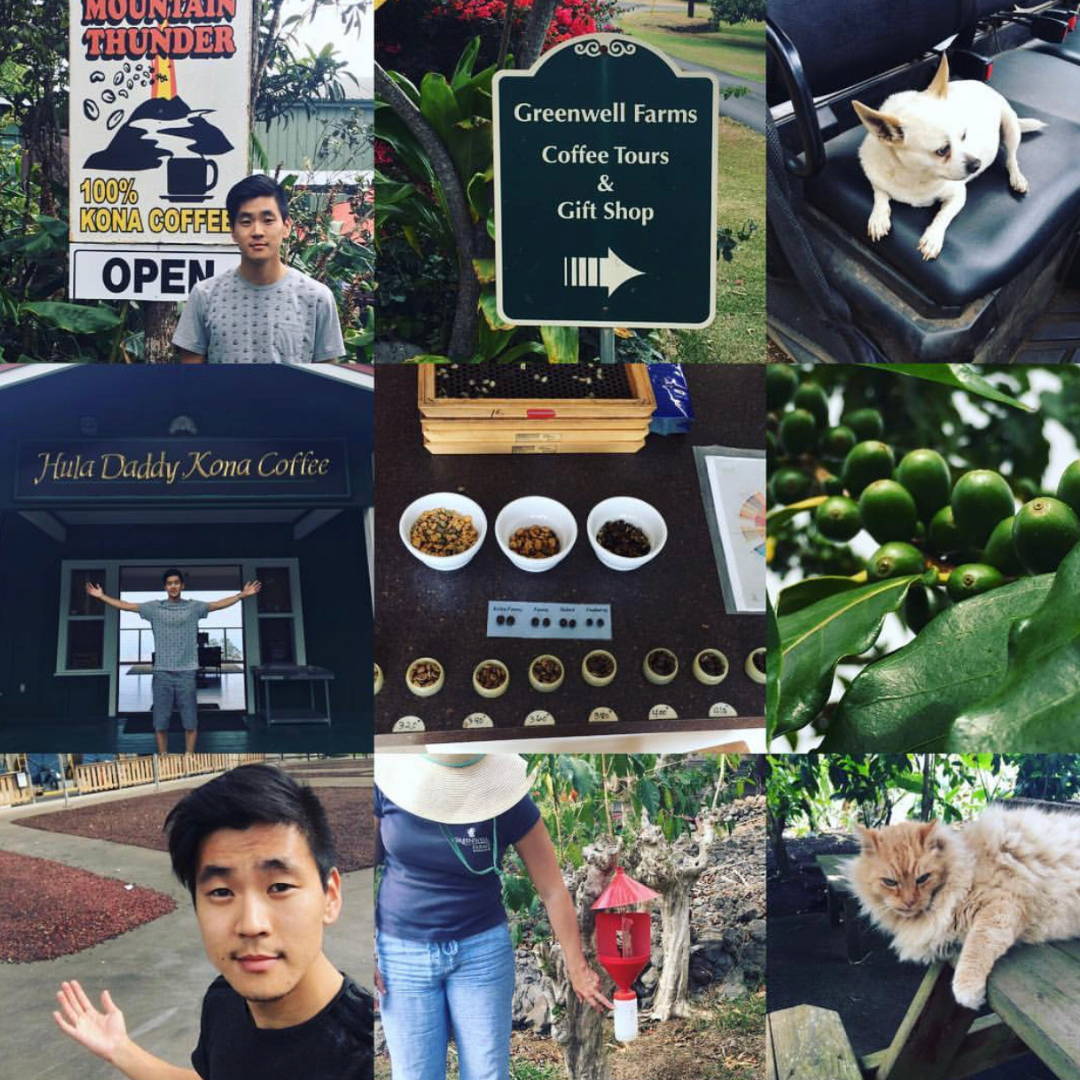 Creating our proprietary Signature Blend.
After approaching many different coffee roasters, we eventually met Millcreek Coffee Roasters. With over 25 years of experience, they knew what was required to create a blend we could call our own.
They supported all of our strange experiments and were patient with our delayed opening. Finally, we engineered our final blend.
A mix of four different regions, the Signature Blend is a medium/dark roast that is bold, smooth, and never burnt. We like to call it our "daily drinker" because we enjoy drinking it every day.
Without Millcreek Coffee Roasters and their expertise, The Clever Bean wouldn't exist. We are forever grateful for our partnership.
PHOTO
Craton tasting different coffees from Guatemala with Stacey Maxwell, the CEO of Millcreek Coffee Roasters.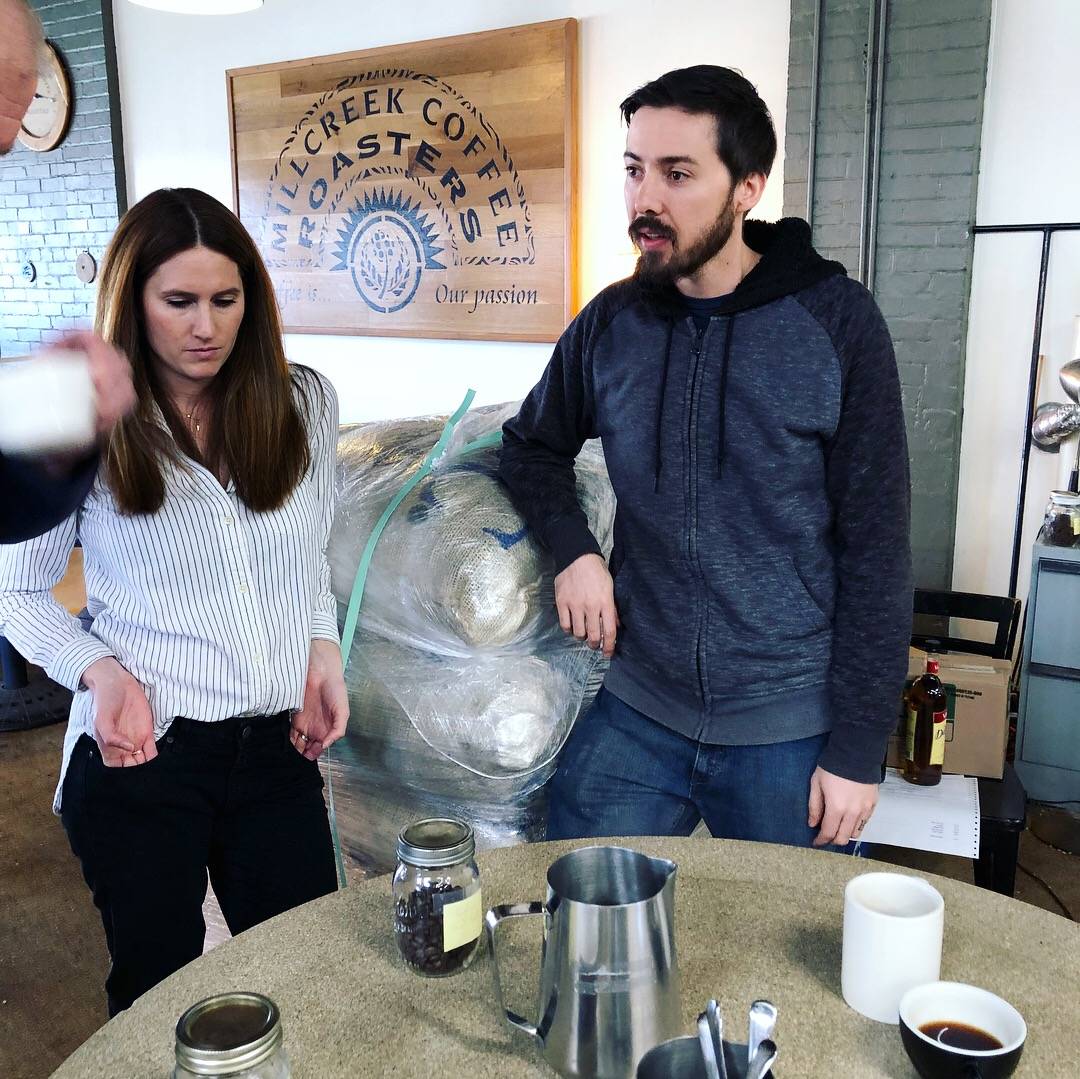 We find the right partners help us design and build our space.
It took a year and a half of research and a handful of different real estate agents to finally secure a location in Draper, Utah.
It took another 9 months to complete all of our new construction and gain all necessary approvals to officially open our coffee house.

Without a large enough space for a kitchen (working with a tight budget), we decided to partner with local bakeries for our chocolate croissants, lemon danishes, gluten-free raspberry oat bars, and more.
We also served quality loose-leaf tea to order through our partnership with Tea Zaanti (voted Salt Lake City's best teahouse).
PHOTO
Early construction to convert a former clothing store (January 2018).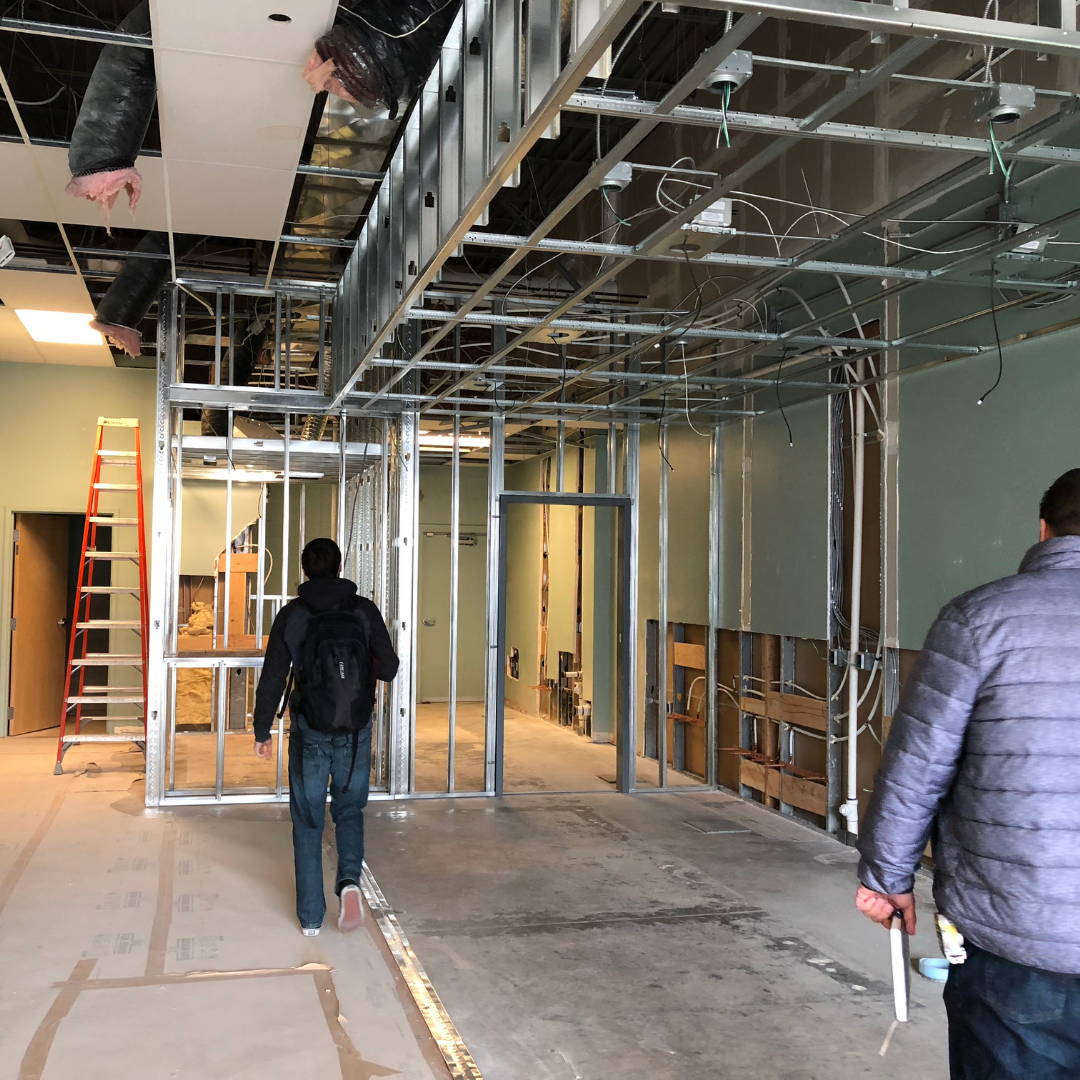 Sharing our coffee with different communities through local pop-ups.
Before we opened, we attended many different networking event and performed 14 "Pour Over Pop-Ups" to help spread the word about our new coffee shop and to get real feedback on what people thought about our Signature Blend.
PHOTO
One of two Pour Over Pop-Ups held at Westminster College in Salt Lake City, Utah (February 2018).
We have our "Grind Opening" on May 11, 2018.
After opening our doors to the public in May 2018, we start our first customer interactions and start experiments in the shop to provide fun community posts on Instagram.
Since November 22, 2017, we started posting daily without missing one day (until we closed in 2020) to document our entrepreneurial journey from the very beginning.
PHOTO
Frozen caramel drinks made with chocolate whipped cream and caramel drizzle. Our frozen drinks (blended with cold brew) become popular during our first summer.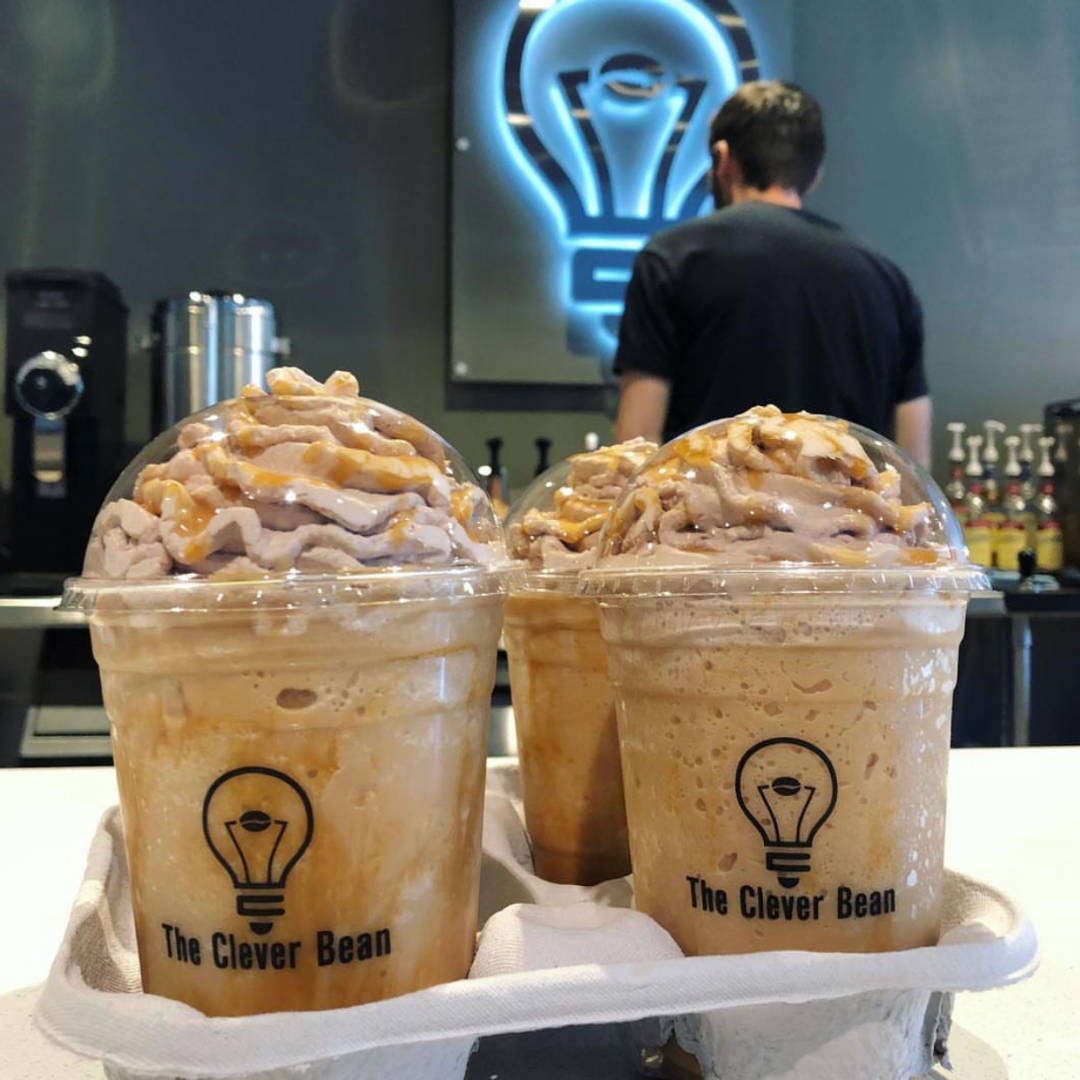 The more painful side of business shared through real-time photos.
Every time we broke something in our coffee shop, we got excited to share it on Instagram (we broke most of our dishes while washing dishes).
We reached a point where our regulars felt bad with how clumsy we were so they asked us to open up a "Broken Dishes Fund" to help with the consistent, financial drain.
Publicly displaying our mistakes where they're prone to happen (we're sure we made more mistakes than the majority of other coffee entrepreneurs) gave us an opportunity to share the more human side of retail coffee.
PHOTO
This photo was posted on August 28, 2018, after breaking another pint glass. That's when we opened up our short-lived Broken Dishes Fund.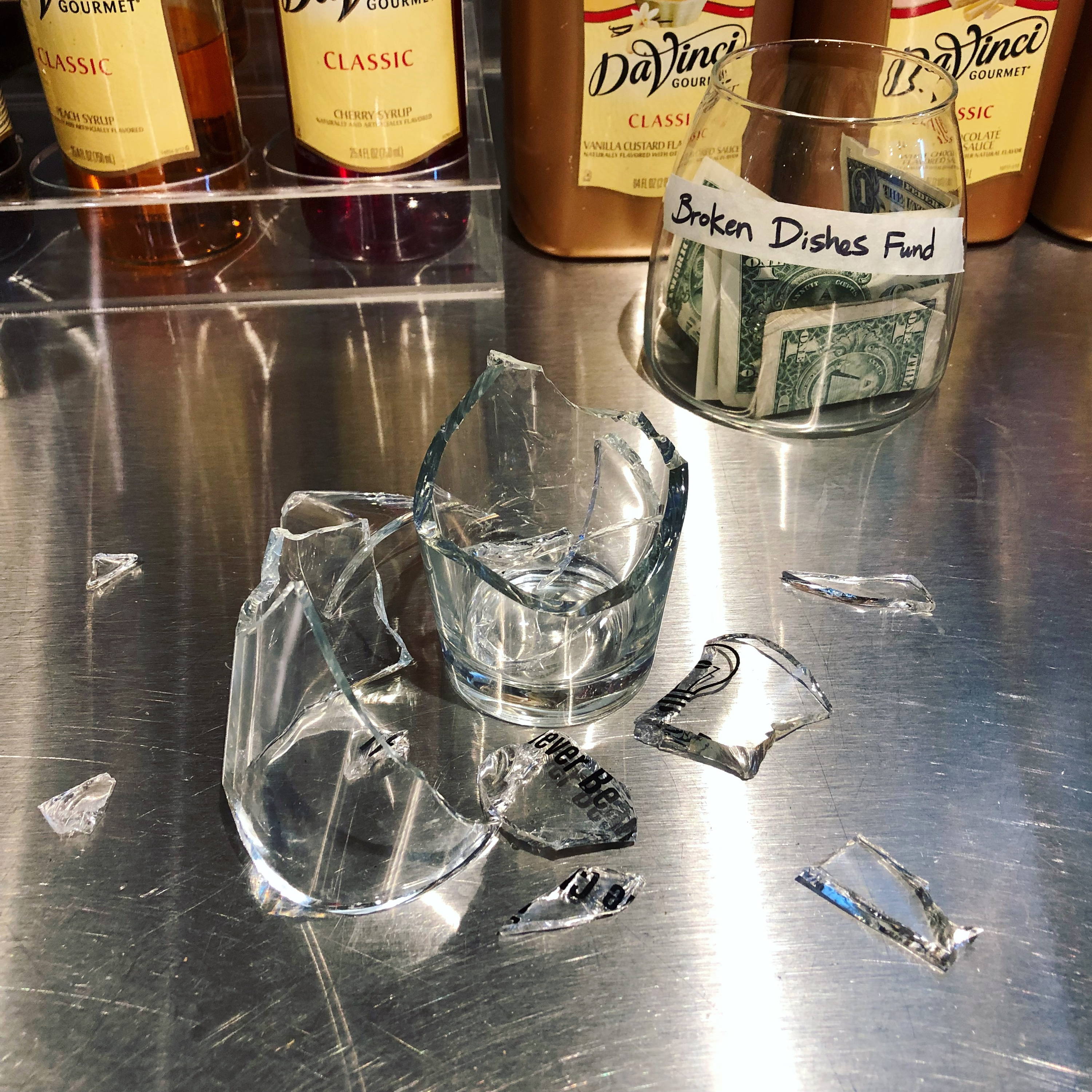 Creative sleeve art contest.
With a lot of local artists frequenting our shop, we decided to start a sleeve art competition in April 2019. We received over 25 submissions and gave away merch to the top winners.
PHOTO
The first place winner's art on our coffee sleeve. If you're interested, check out her page @rebecca.hale_art on Instagram.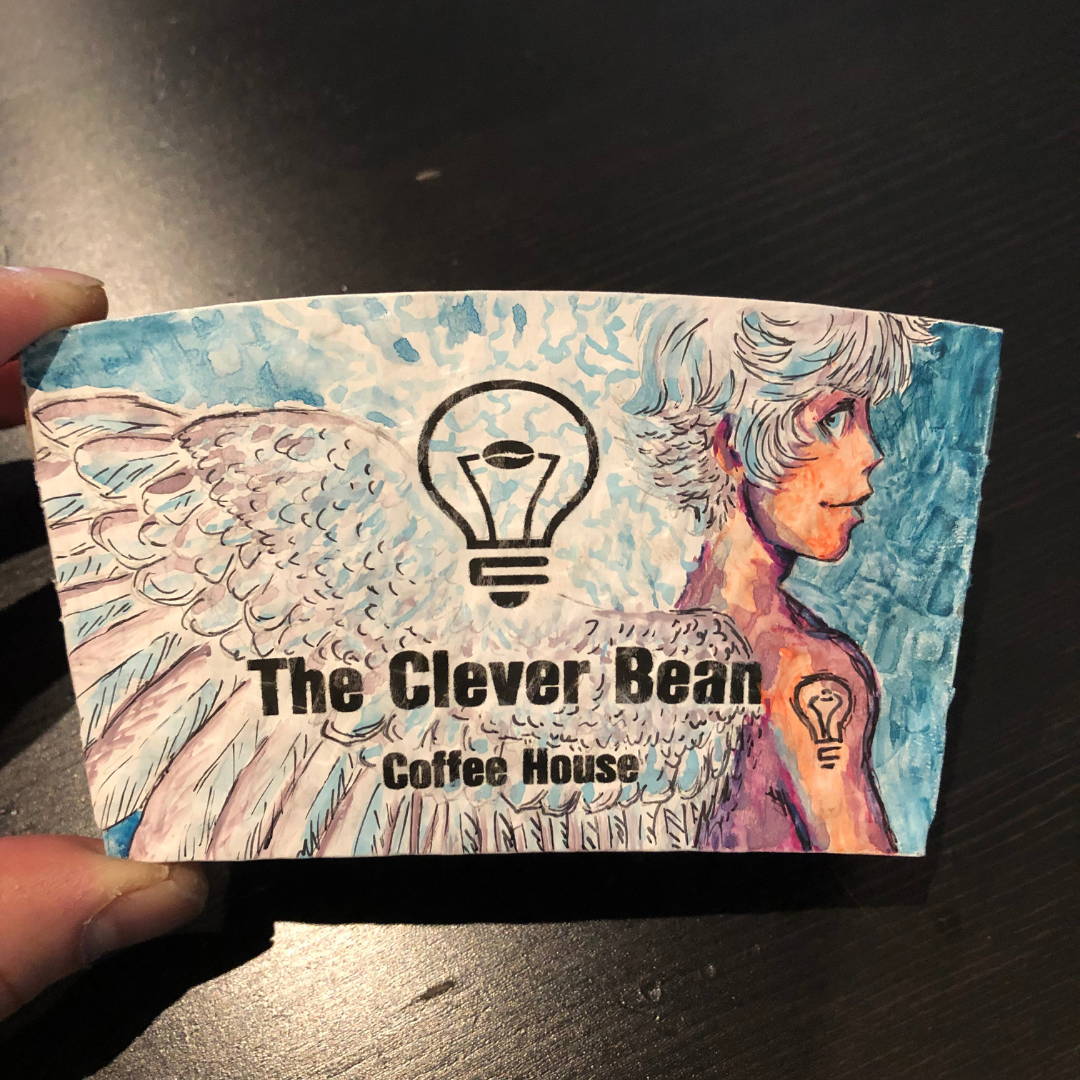 The Junto organized weekly to help our community grow intellectually.
Almost every Wednesday since June 20, 2018, we held ~50 events called The Junto with a goal of helping each other (anyone being welcome to attend) with mutual self-improvement.
During each session, we dived into deep discussions around topics such as mindset, vulnerability, and habit-building after watching a video or listening to a speaker, allowing us to expand our minds with things that we all struggle with as humans.
The Junto is the name of a club that Benjamin Franklin created in Philadelphia in 1727. The club's purpose was to debate questions of morals, politics, and natural philosophy, and to exchange knowledge of business affairs. Members were drawn from diverse occupations and backgrounds, but they all shared a spirit of inquiry and a desire to improve themselves, their community, and to help others.
PHOTO
Different The Junto events over the course of more than a year.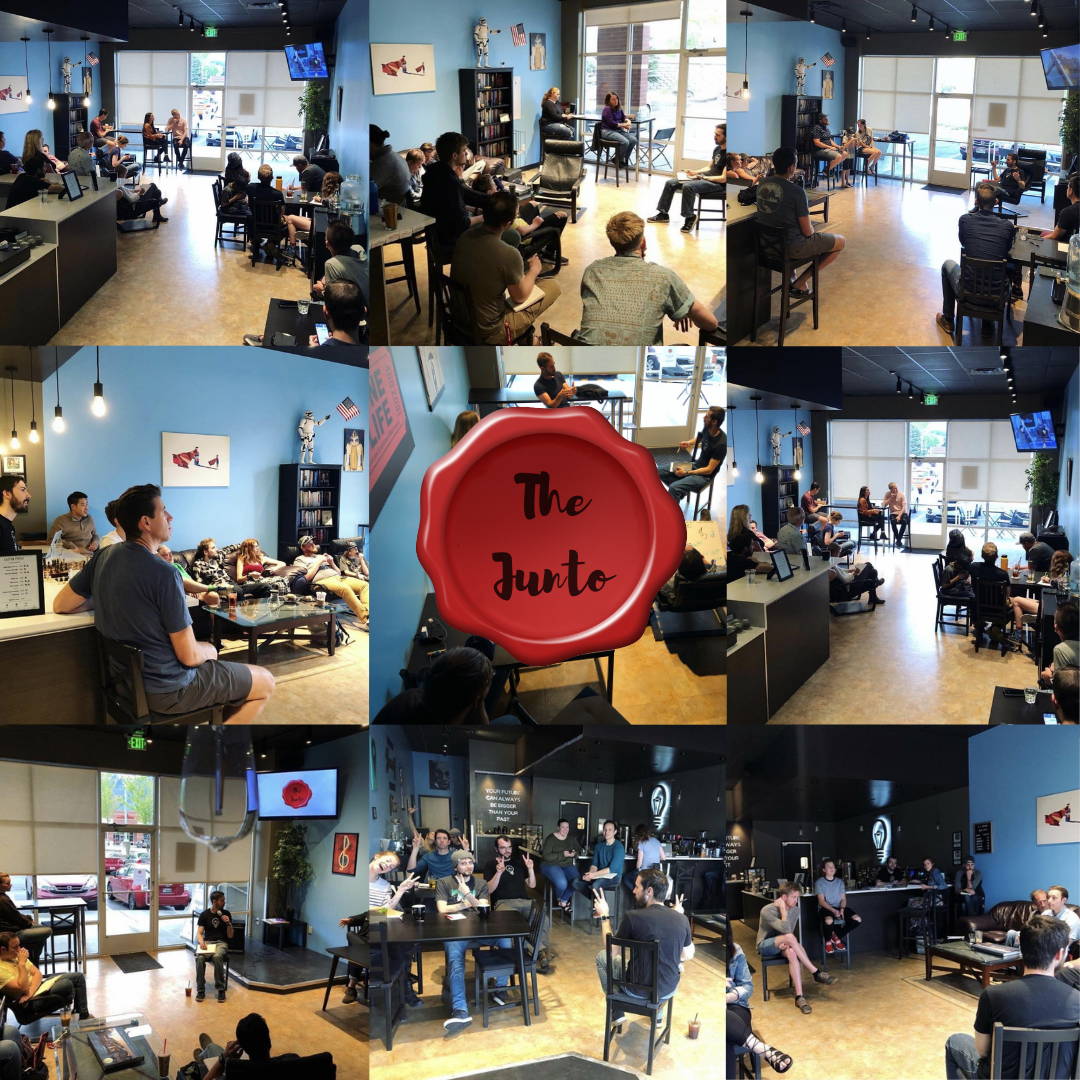 Our first community-created limited edition button.
Through the combination of Instagram and Facebook voting, we had our community decide which design they wanted us to turn into a limited edition button.
PHOTO
#4 was the winning design, getting 27.62% of the votes. If you're interested, check out the artist @mayangem on Instagram.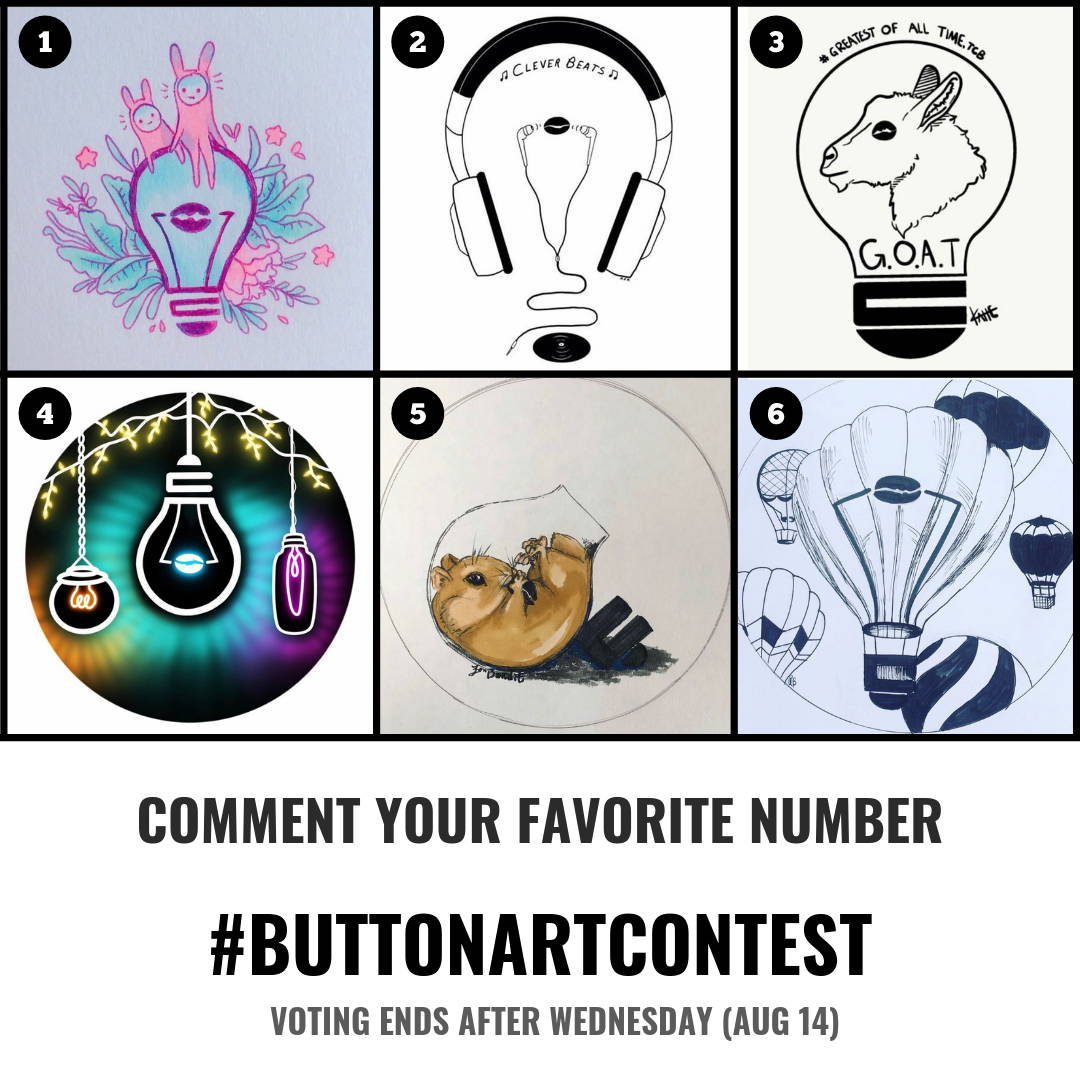 Celebrating our one year anniversary with another pop-up.
For our 1 year anniversary (on May 11, 2019), we celebrate by closing our shop for the day and doing a service project to support FADV (Fight Against Domestic Violence).
PHOTO
From left to right, we have Dennis, Hayden, Craton, Josh, and Sabrina.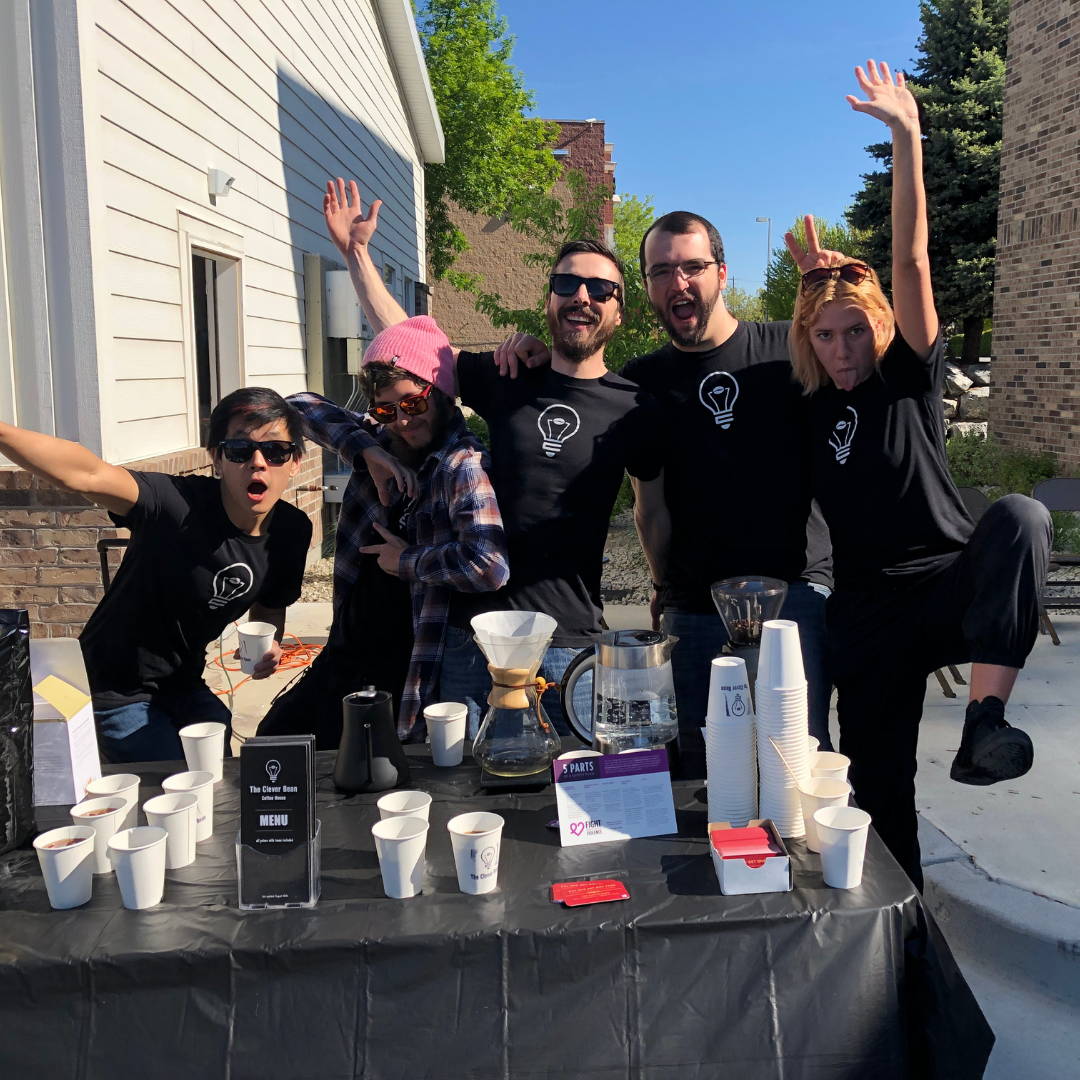 Giving love to our top regulars.
After being open for about 6 months, we decided to create a V.I.B (Very Important Bean) board that we updated monthly.
We gave away a small button with our lightbulb logo and a free drink to everyone who made the board.
This was a fantastic way for us to recognize our regulars and to start fun discussions with customers who were curious and started getting competitive (such as in April 2019).
PHOTO
9 different months out of over a year of monthly postings on Instagram.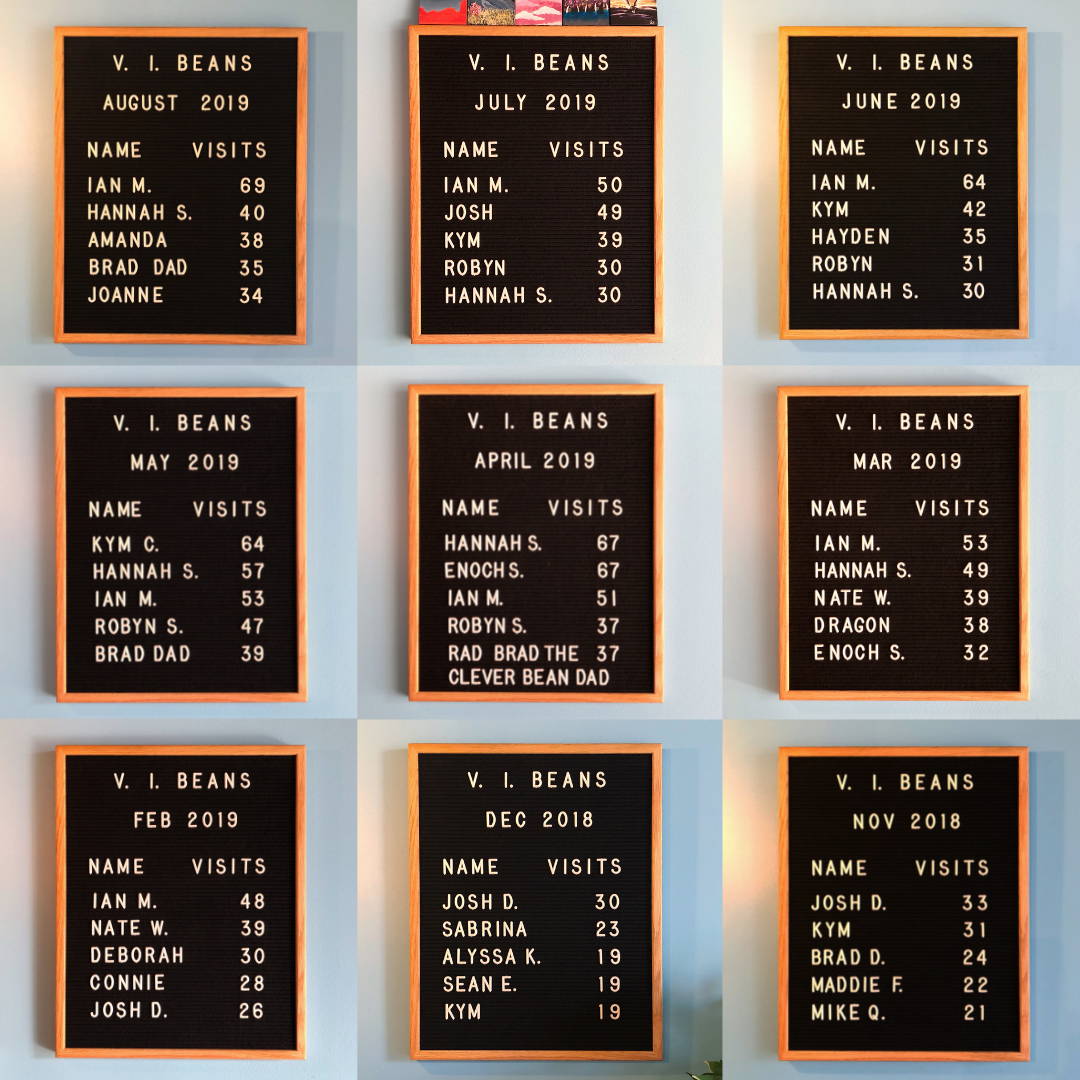 Experimental drinks for a good cause.
Almost a year after we opened, we started adding "donation drinks" on our Outer Menu (used in the shop to display new, experimental drinks). Half the proceeds for each donation drink purchase went to support different causes that our customers cared about.
Here are some of the organizations supported through donation drinks:
Water Buffalo Punching Scholarship Fund
This opportunity was brought to us by Joanne Castillo (@thesavagerose007 on Instagram), a scholarship used to help SLCC (Salt Lake Community College) students transferring to the University of Utah.
The Lulu Tree
Mission to prevent tomorrow's orphans by equipping today's families through local churches (@the_lulu_tree on Instagram).
PHOTO
This drink is called "The WOY" for Woman of the Year. Proceeds for each purchase of this drink went to LLS (Leukemia & Lymphoma Society) as part of a fundraising campaign for Carmen Harris (@carmonium23 on Instagram). We later hosted an event with serial entrepreneur Jason Woodland (@jasonwoodland1 on Instagram) called "COFFEE FOR A CURE" to celebrate her eventual win.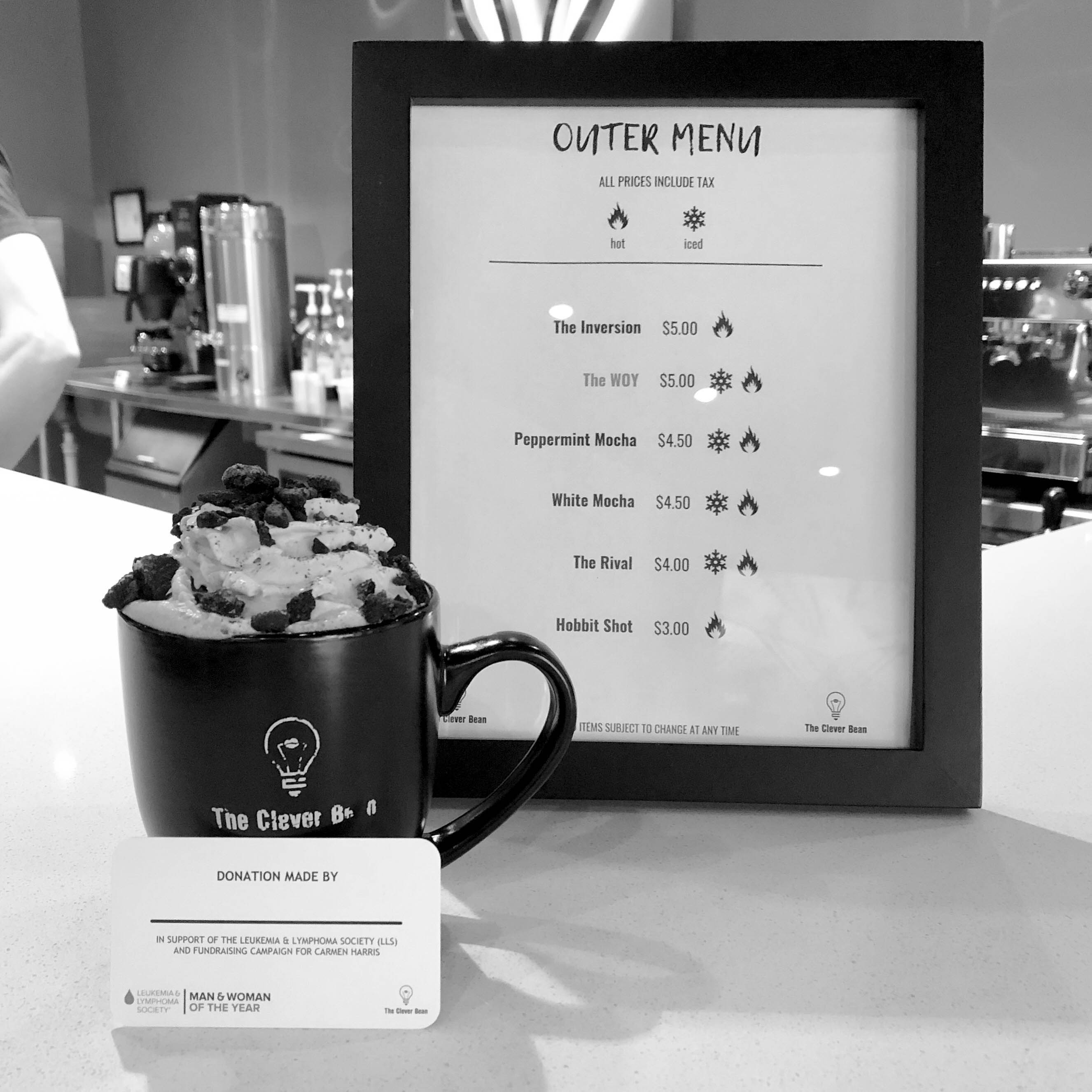 Our lightbulb logo being used for self-expression.
One of the first things that we did when we opened our physical shop was give away our lightbulb stickers to every customer.
We started receiving photos of our lightbulb sticker from all over the world, which is what started #ShowTheBean.
More than one person tattooed our logo in unique ways that spoke to them (we swear we didn't try to influence their decisions).
We were so inspired by our customers that we started designing other variations of our lightbulb logo and selling them in sticker form. Most of our stickers are printed in limited quantities and are no longer available for future purchase. We hope to continually grow our community of sticker lovers, wherever they reside in the world.
PHOTO
Our employee Josh showing off his lightbulb tattoo with a heart in the middle shortly after our one year anniversary.
We decide to close our shop and recover mentally and physically.
After the 2020 pandemic, we decided to close our physical coffee shop. For the safety of our customers, we felt that reducing our chances of getting anyone sick as much as possible made the most sense.
For the first time since we opened our doors in 2018, we were able to get some rest (we worked almost 100 hours a week and took only a handful of full days off).
That's when we broke down completely and shed a lot of tears from burnout.
Even though everything looked fine from the outside, we had the feeling that our business was not going to be sustainable in the ways that we wanted. While we were open, we had a desire to expand our business online to support our physical projects, but didn't have the time to properly strategize or resources to hire enough employees.
PHOTO
The one day we were so exhausted that we decided to close early (March 2, 2019).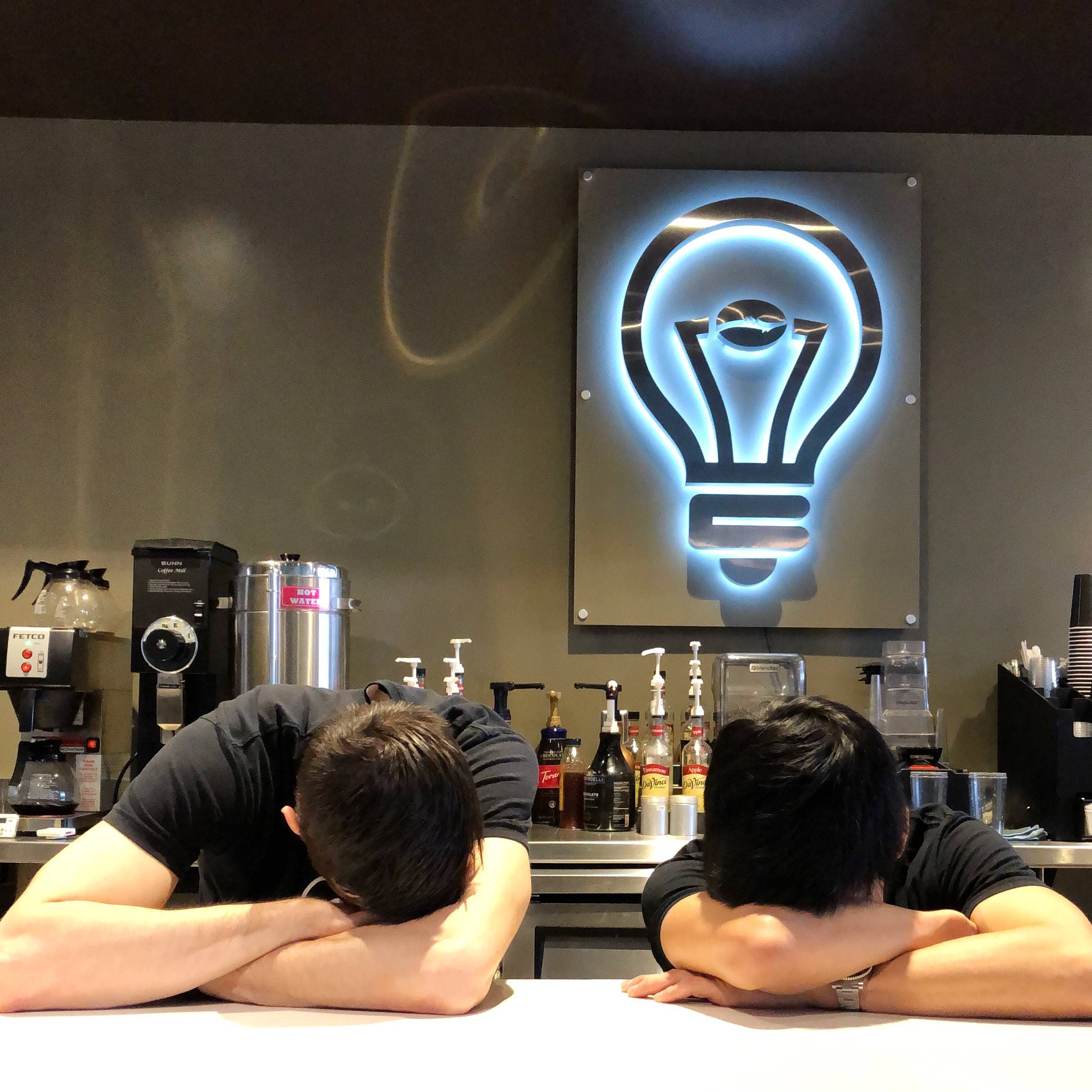 We pivot online and start developing the Clever Cold Brewer.
With our physical doors closed, we start experimenting with different online businesses to see how we can generate more resources through the internet.
After figuring out how to sell different things online, we start understanding more about how we can re-structure the space where our coffee house used to be into a packaging and delivery hub for our new online coffee shop.
Sharing our drink recipes with former regulars, we quickly realized that the cold brew we served in our coffee house was not easy to replicate at home with the existing cold brew makers on the market.
That's when we started researching how we could bring our own cold brew maker to the market, including "single-brew" coffee pouches to remove the need for a coffee scale or grinder.
PHOTO
Serving our cold brew and showing off the Clever Cold Brewer at the 2021 Utah Dough Show (@utahdoughshow on Instagram).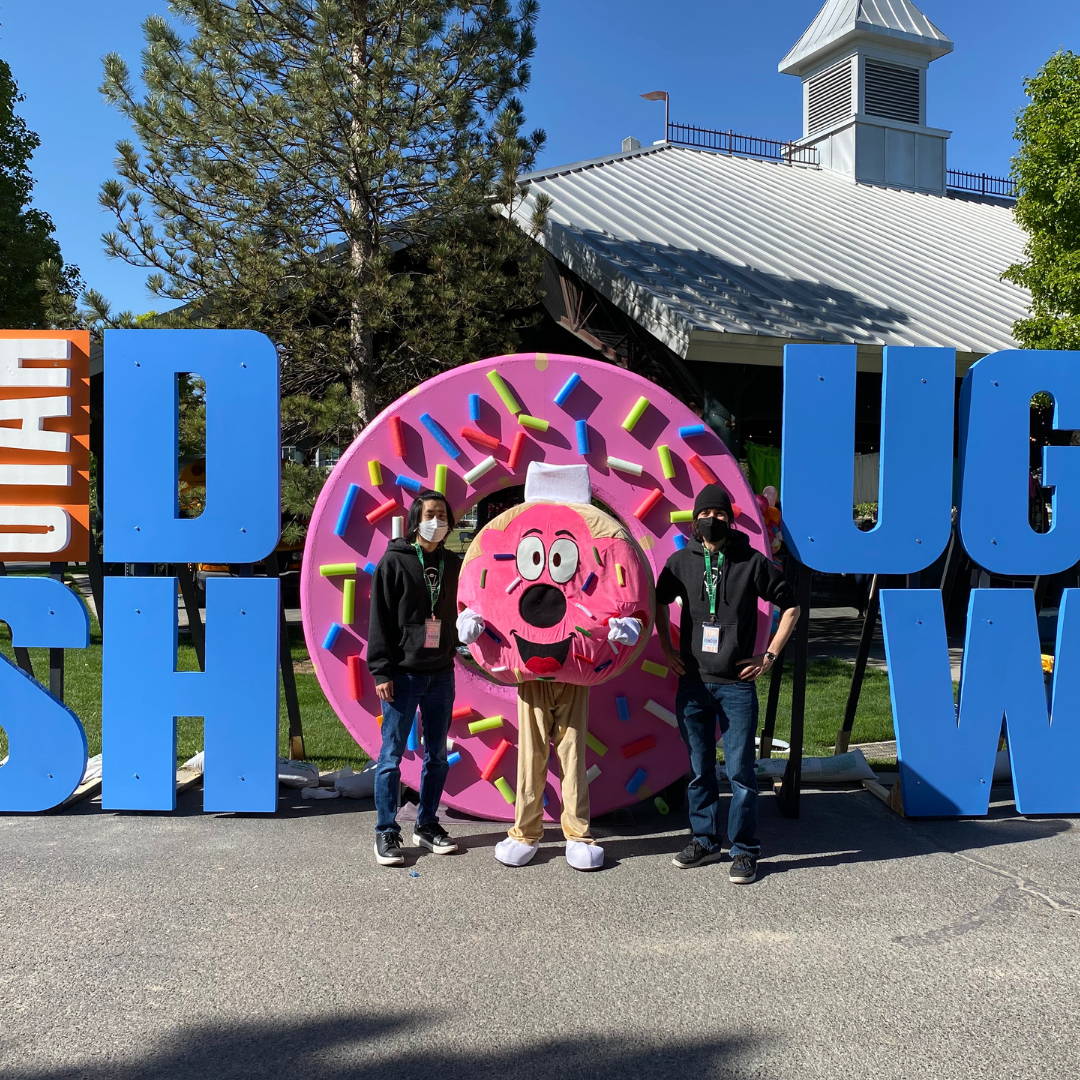 The Clever Cold Brewer is now in production.
Using our own 3D printer (with no previous experience) to create prototypes of our Clever Collar, it took over 400 hours of 3D print time to create the final version for our selected beta testers across the United States.
After receiving lots of honest feedback on our cold brewing system, we made all of the necessary changes required to take a shot at launching our first Kickstarter campaign for the Clever Cold Brewer.
On September 2, 2021, we fully-funded our project in under 30 days! For the rest of 2021, we will be focused on shipping out all Kickstarter orders and coffee subscriptions, along with adding Clever Cold Brewer kits for public sale on our website.
If see what we're up to now, follow us @TheCleverBean on Instagram.